podbay.fm: http://podbay.fm/show/987491969
iTunes: https://itunes.apple.com/tt/podcast/diary-arcade-employee-podcast/id987491969?mt=2
Live "You Now" Show: Wednesdays 7pm ET http://www.younow.com/VicSage2005/56123168/11102250/1042/b/14:13?fb_action_ids=875126392556859&fb_action_types=og.shares&fb_source=other_multiline&action_object_map=%5B994691097230220%5D&action_type_map=%5B%22og.shares%22%5D&action_ref_map=%5B%5D
Web Site: http://www.retroist.com/category/diary-of-an-arcade-employee-podcast/
Host: Vic Sage
About: Each show I will not only discuss a particular classic arcade game but share some behind the scenes information of what it's like to work at the  Arkadia Retrocade.
Review:
It's great how Vic picks a classic arcade game topic and dissects the history, playability and what's it's like to work at an Arcade.
You can tell the host takes his time preparing for the topic and is well spoken. If you catch Vic's live "YouNow" show, there is always some thing interesting going on in the arcade.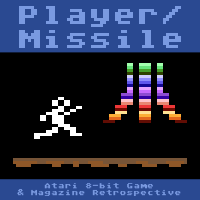 Player/Missile Podcast
RSS: http://playermissile.com/playermissile.rss
iTunes: https://itunes.apple.com/us/podcast/player-missile/id899290995?mt=2
Sticher: http://www.stitcher.com/podcast/playermissile
Web Site: http://playermissile.com/
Host: Rob McMullen
About: A retrospective of the Atari 8-bit home computer systems, the magazines that covered them, and a somewhat chronological review of games as they arrived on the platform.
Review:
When I stumbled across this podcast, I thought why in the hell would anyone want to ever review and investigate all 8 bit games? Well after listening to the full podcast, I was hooked. It totally retro'd me back to the early 80's with my TSR-80 and trying to read line after line of magazine basic code. Rob does an excellent job going through the archived classic gaming and pc coding magazines and discussing the most interesting articles from that time period. I'm not sure if this podcast is for everyone, but if you have history with coding in the 70's/80's then defiantly check it.