Details

Written by

JoyStick

Category: Classic Arcade Podcasts
Hits: 930
iTunes: https://itunes.apple.com/us/podcast/arcade-outsiders-podcast/id691717909
Live Show: Tuesday 11pm ET/ 8pm PT   http://allgames.com/podcasts/arcade-outsiders
Web Site: http://arcadeoutsiders.com/
Hosts: John Jacobsen, Joe Senigaglia and Shawn Williams
About: Three buddies get together once a week to discuss classic arcade/pinball game repair/game play and arcade/pinball acquisitions.
Pro's:
When the group is on subject of classic arcade games it's an excellent podcast. Call in celebrities like bobcat goldthwait and koolmocriag. These guys make you feel like you there with them having beers. John, Shawn and Joe are icons for the arcade collectors community, so if you looking for comradery though the live show allgames chat and some insight about collecting arcade machines this show is for you.
Con's:
Sometimes the discussion takes a turn for the worst with fowl commentary or occasional disturbing song. This podcast is defiantly is not for children!
Details

Written by

JoyStick

Category: Classic Arcade Podcasts
Hits: 1536
podbay.fm: http://podbay.fm/show/987491969
iTunes: https://itunes.apple.com/tt/podcast/diary-arcade-employee-podcast/id987491969?mt=2
Live "You Now" Show: Wednesdays 7pm ET http://www.younow.com/VicSage2005/56123168/11102250/1042/b/14:13?fb_action_ids=875126392556859&fb_action_types=og.shares&fb_source=other_multiline&action_object_map=%5B994691097230220%5D&action_type_map=%5B%22og.shares%22%5D&action_ref_map=%5B%5D
Web Site: http://www.retroist.com/category/diary-of-an-arcade-employee-podcast/
Host: Vic Sage
About: Each show I will not only discuss a particular classic arcade game but share some behind the scenes information of what it's like to work at the  Arkadia Retrocade.
Review:
It's great how Vic picks a classic arcade game topic and dissects the history, playability and what's it's like to work at an Arcade.
You can tell the host takes his time preparing for the topic and is well spoken. If you catch Vic's live "YouNow" show, there is always some thing interesting going on in the arcade.
Details

Written by

JoyStick

Category: Classic Arcade Podcasts
Hits: 1438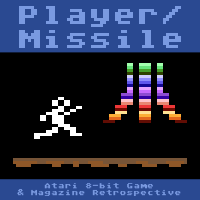 Player/Missile Podcast
RSS: http://playermissile.com/playermissile.rss
iTunes: https://itunes.apple.com/us/podcast/player-missile/id899290995?mt=2
Sticher: http://www.stitcher.com/podcast/playermissile
Web Site: http://playermissile.com/
Host: Rob McMullen
About: A retrospective of the Atari 8-bit home computer systems, the magazines that covered them, and a somewhat chronological review of games as they arrived on the platform.
Review:
When I stumbled across this podcast, I thought why in the hell would anyone want to ever review and investigate all 8 bit games? Well after listening to the full podcast, I was hooked. It totally retro'd me back to the early 80's with my TSR-80 and trying to read line after line of magazine basic code. Rob does an excellent job going through the archived classic gaming and pc coding magazines and discussing the most interesting articles from that time period. I'm not sure if this podcast is for everyone, but if you have history with coding in the 70's/80's then defiantly check it.
You are here:  
Home

Classic Arcade Podcasts